This all-inclusive, residential landscape photography workshop will be based at the stunning Westcott Barton estate near Barnstaple in North Devon. It is aimed at 'improver' photographers who want to get to grips with the basics of landscape photography and to make the most of the stunning autumnal colour at this time of year.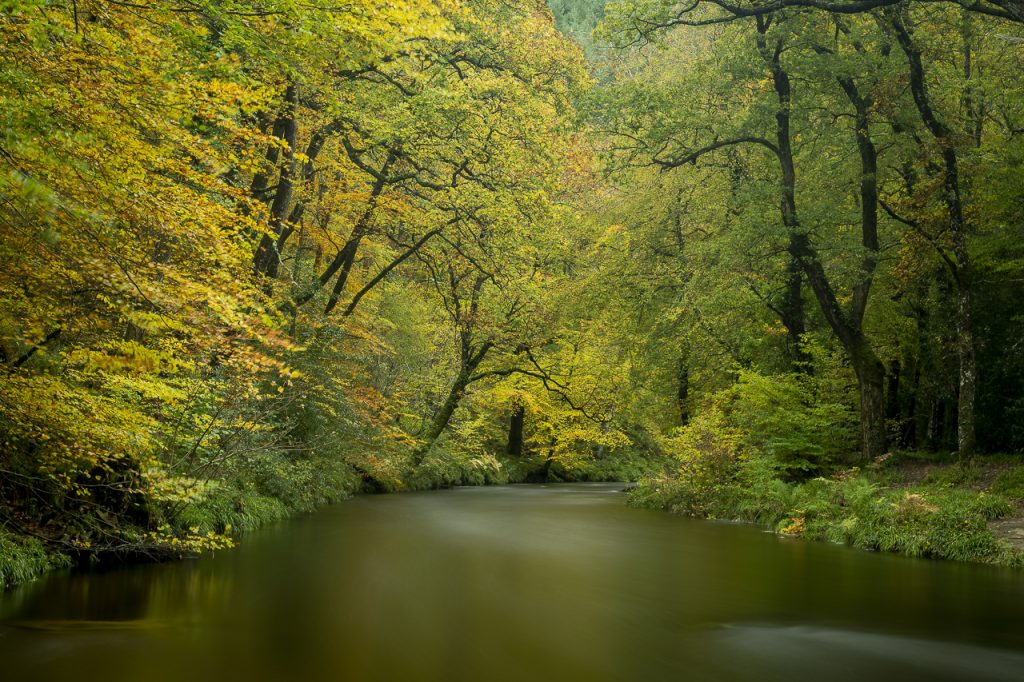 The workshop offers excellent value – you will have over two full days of teaching and all accommodation and food is provided.
Following the workshop, once you have had a chance to reflect on your experience and look through your images, you will have the opportunity for a 1:1 debrief / critique session with Andrew via Zoom. This is part of the workshop teaching package so there is no additional charge for it.
We will start on the afternoon of Thursday 10th November with an exploration / initial photo session at Westcott Barton. After dinner we will have an informal discussion of the key camera settings and compositional techniques we can use to enhance our landscape images. During the following two days we will be visiting woodland as well as coastal sites as weather dictates to make the most of the wonderful autumn colour. We will be taking wide-angle shots as well as more intimate and detailed landscape images and will explore a range of techniques, including how to use slow shutter speeds for creative effect.
Whilst our schedule will need to be flexible to make the most of the weather we will if there is sufficient interest, discuss the range of digital techniques that are available for processing our images.
The course will finish after breakfast on Sunday 13th November – weather permitting after a final early morning session to make the most of our last 'golden hour'!
Equipment requirements:
A DSLR or Mirrorless camera together with a wide angle and telephoto lenses as well as a sturdy tripod.
A polarizer and neutral density filters for slow shutter speed work.
A laptop / computer loaded with your favoured processing software – optional.
Spare memory cards and sufficient batteries to carry you through a full days shooting.
We have limited kit for hire if you don't have all of this equipment yourself. Please let us know in advance if you have any specific requirements and we will do our best to help.
Clothing and fitness level:
We will be working outdoors, possibly in wet conditions, so a good waterproof jacket and over-trousers will be needed as well as a warm jacket.
We will be walking reasonable distances – possibly up to several miles – on potentially wet / muddy and uneven including rocky ground, so stout boots and wellingtons with a good grip will be vital. Please ensure you are fit enough to negotiate uneven and rough terrain unaided.
If you have any queries about your experience level, fitness requirements, equipment suitability or our approach to Covid19 security, please contact Andrew to discuss at info@andrewmccarthyphotography.co.uk
Price and venue:
Covid-19 secure room in a shared building and with shared amenities with full single occupancy – £450.00 per person all inclusive.
A shared twin room where both individuals are participating in the workshop – £400 per person all inclusive.
Non-participating partners sharing a participant's room – £300 per person all inclusive.
For booking and for more information on the venue please contact Westcott Barton directly at Westcott Barton: Photography Retreat